Shree Kshetra Dervan – A Center of Pilgrimage
Dervan is a small village (which had remained totally backward for a very long period) about 19 kms. from the town of Chiplun. To reach this place one has to come to Sawarde a villagae on Chiplun – Ratnagiri Road. From here one has to turn to left and follow the path that leads to Durgwadi. After covering a distance of about 3 kms. one comes to a place where every visitor feels as if he/she is being welcomed by the Mavlas (soldiers) of King Shivaji and then the visitor can be sure of the fact that he/she has reached Shree Kshetra Dervan.
It was within the boundaries of the Savarde village and right near the road leading to Dervan, that Shree Sant Seetarambua Walawalkar's preceptor Shree Sant Wahalkarbua would live in his own house.There only he breathed.his last. His last rites were performed upon his mortal remains by his devotees and villagers on the piece of land owned by him. During this period, Shree Sadguru Digambardas Maharaj who was in Pune then, was asked by his preceptor (Shree Baba Maharaj) to get built a temple of Lord Hanuman at the spot where last rites had been performed and a shrine in Shree Wahalkarbua's memory.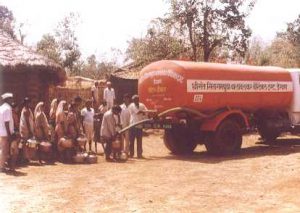 Accordingly, Shree Maharaj got built there a shrine and a small temple of Lord Hanuman with Shree Sant Seetarambua's help. From an area of Mumbai called Madhavbaug he personally purchased n idol of Lord Hanuman and got it installed here. He set up the tradition of observing the death anniversary of Shree Sant Wahalkarbua every year on Paush Shuddha Dwadashi (the twelth day of a lunar fornight of the 10th Hindu month) day. On that day Shree Maharaj would personally perform Kirtan (celebrating the praises of the Gods with music and singing).
The year was 1954. As compared to the present day the transport and travelling facilities were negligible. Despite this, due to the initiative taken by Shree Maharaj, this day would be observed in the best possible way and there would be activities like Bhajan (an act of worship by way of singing) Kirtan (celebrating the praises of the gods with music and singing). The villagers would be fed and given Prasad (some eatable given as favour) for being taken to their house. On one such occasion he had come to Sawarde from Mumbai and brought along with him 52 parcels of the many things needed for the observance of the day and the remarkable thing was this that he had come in the usual ordinary State Transport bus.
He had stocked all the things needed for celebration or observance of this important day. Such things included carpets, containers for cooking purposes, lanterns, dry cell torches, petromax lamps etc. Shree Maharaj would hand over such things to Seetarambua and the day would be observed under his (Seetarambua's) supervision. Shree Sant Seetarambua too would work indefatigably for the upkeep of his preceptor's shrine, worshipping rituals and the observance of his preceptor's death anniversary. Without caring for discomforts involved in such devotional work he continued his efforts in the service of the downtrodden and selfless philanthropy. After a few years, Shree Wahalkarbua's son-in law, Shri Shembekar sidelined Shree Sant Seetarambua and took all the property in his own possession.
The situation had became so deplorable that in his old age Shree Seetarambua had no roof where he could take shelter. Shree Seetarambua was thus separated from the place where he had devotedly worshipped his preceptor. Shree Digambardas Maharaj felt very sad about it. He decided to make his preceptor Shree Baba Mahraj's command (given when he was alive) – "you shall take all possible care of Shree Seetarambua" – a reality. He immediately took the decision of arranging for Shree Seetarambua's residence. Shree Maharaj, bought some land for Shree Seetarambua and also purchased for him some agricultural land for his subsistence, since it was becoming increasingly difficult for Shree Seetarambua to subsist on alms. The work for the residence-structure had begun, But Shree Seetarambua breathed his last on 18th Jan, 1969, i.e. before this work could be completed.
As Shree Maharaj had instructed, it was in his own presence, in the presence of the villagers and in the presence of some of Shree Mahraja's devotees of Mumbai that last rites were performed upon Shree Sant Seetarambua's mortal remains upon the newly purchased piece of land. Before the performance of the last rites, Shree Maharaj had expressed his resolve of setting up – Shree Sant Seetarambua Walawalkar Charitable Trust. This trust, set up with the primary aim of constantly reminding every member of the society of the obligation of social-service, doing every thing possible for its continuation and for the spread of the message of devotion, was registered with the Charity Commissioner on 17th July, 1969. As Shree Maharaj had commanded, some of his devotees and some dignitaries amongst them whose hearts and minds had by now been suitably moulded and trained for the work of socialservice by his teachings, became the trustees. The need of fundraising was felt, when the work began. By way of various means viz. publishing souvenir, personal donations, presenting shows of plays and instrumental music etc. the funds were raised. Before all his trustees and workers he set a supreme ideal of social-service'by personally suffering and making sacrifices of every sort, as regards matters related to money and physical efforts.
Every year, on the day of Magh Pratipada (the first day of the lunar fortnight of the 11th month of the Hindu year) the death anniversary of Shree Sant Seetarambua is observed. On this day, various programmes ranging from Bhajan, Kirtan Namasmaran (recollection of sacred name or meditating on God's name) to the palanquin ceremony during the night time are planned. The poor of the surrounding areas are invited for Mahaprsad (a community meal served as a mark of favour or graciousness).
After completing this memorial of Shree Sant Seetarambua, Shree Maharaj decided to get developed the surroundings in a unique way. To the whole state of Maharashtra, Shree Chhatrapati Shivaraya is almost a deity. To the believers in the sacred concept of Hindu nation, he is the symbol of selfrespect, self-honour and the esteemed form of Hindu indentity. He was that great soul who left an indelible mark upon the history of this world by way of his supreme qualities; action oriented approach mingled with uprightness. Out of a feeling of reverence for him people sing Powadas in his honour (Powada : a panegyric piece in a kind of alliterative poetry recounting the achievements of a warrior, the talents and attainments of a scholar, or the powers, virtues etc. of a person in general) People pride themselves in extolling his name with acclamations. Slogans expressing resolve to cherish the high ideals set by him and to continue the tenets of virtuous tradition left behind by him are shouted. Why should there not be a temple in the memory of a personality of such a high stature that he almost proved to be on epoch maker ? Fired by such supreme zeal, Shree Maharaj resolved to raise a memorial in his memory who seemed the incarnation of Lord Shiva, who inspired people to sacrifice everything in the interests of nation, who personalised the lessons in patriotism, taught the hymn of self-honour and inculcated in the minds of people the supreme thought that only selfless and disinterested efforts can lead a nation to a glorious path.
Immediately Shree Maharaj began translating his thoughts into action. Things were planned meticulously. Planning, with all the minutest details was an inseparable part of his personality, and of course, before undertaking such a gigantic task, it was a must. It was his earnest desire that the proposed memorial should kindle the fire of patriotism in the minds of the visitors.
Shree Maharaj wanted that the very depiction of King Shivaji's valourous, chivalrous and virtuous deeds through this memorial should awaken his compatriots from the slumber of sluggishness and free them from the vices of selfishness. It was his conviction that the depiction of each memorable incident of this great personality in an exquisite form would serve the purpose of that flash of lighting, that would fill the heart of every visitor with the light and fire of the supreme form of self honour.
Shree Maharaj also took the decision of raising a memorial in the honour of Shree Samartha Ramdas along with the memorial of King Shivaii here. He had nurtured this thought right since his age of twelve. Day after day the work was assuming the desired form. It was on 5th May, 1981 (i. e. on Shivajayanti Day) that Shiv – Samarth Mandir was inaugurated after its completion.
Later, the hands of sculptors were busy creating the soldiers, the troopers; the hands of masons were busy erecting the fortifications. Shivashrushti was no longar now a dream or a figment of imagination. It had rather started assuming a concrete form. It was the realisation of a glorious dream..It was like erecting a monument upon the sacred land of Derwan which would be seen by the coming generations of Indians as the highest symbol ; which would represent their long cherished feelings of selfrespect and self-honour ; that something which would inspire them to be virtuous and upright. It was a remote corner of India, hidden from publicity of any type, that was now witnessing the emergence of a true but artistic depiction of the glorious cultural past of our nation, that something to be proud of ; that deserved to be cherished in the best possible way; that which left behind a tradition of highest order to be inherited by the coming generations for their upliftment and constant progress.
Associates have made a valuable contribution in providing a realistic form to Shree Maharaj's aspirations by way of sculptures and depiction of historical events. This multicoloured world and the grand sculptures leave a bewitching and awe-inspiring effect upon the minds of the visitors. This inspiring presentation of the glorious historic past, for at least some time, makes one introspect. An appeal is thus made to one's sense of duty; the gratitude and indebtedness which one owes to one's nation, religion and the supreme.
In the temple premises, King Shivaji has been depicted as riding a horse. Sant Ramdas, Sant Tukaram and Sant Namdev are found standing in their life-size forms. There is a'Gomata' (Cow depicted as the mother of all) temple. There are infantry soldiers. Guards, Virile men. Upon the walls of the assembly-hall that look like a portico are depicted memorable scenes from Shivaji's life history. Shivaji's naming Ceremony; he taking an oath with his companions-at Rohideshwar as a child; he praying before the goddess Jagadamba; his preceptor Ramdas annihilating the feeling of conceit of his heart; he turning tables on Shahiste khan; he teaching the trecherous Afzal khan a final lesson of life-time by following the principle of 'an eye for an eye and a tooth for a tooth'; Baji Prabhu Deshpande sacrificing his life for the protection of the ideals of loyalty; the coronation Ceremony; the reacceptance of Netaj i Palkar to the Hindu faith, who had been trecherously converted to the Muslim faith by Aurangazeb, to show the world that a true Hindu can never be compelled to be an apostate – are the scenes one finds here.
Aurangazeb had no alternative except that of licking dust because of a lighting attack by King Shivaji on the City of Surat. During the course of this invasion the Subhedar of Surat sent an assassin in the guise of an ambassador. But the alert and loyal body-guards of Shivaji frustrated his (Subhedar's) plans by killing this assassin. The scene has been depicted so exquisitely that it gives a hair-raising effect to the looker. A great culture, the parallel of which can nowhere be found. which considers others' wife as worthy of respect as one's own mother, in its pictorial and sculptural form is here to welcome any visitor with open arms. At one stage of life one develops a feeling of going to the holy land and absorbing oneself daily in the act of worshipping to have the most needed contentment. On similar lines, one can say that to have real contentment, one may not visit other lands; yet if one visits Dervan and comes in contact with Shivashrushti and Shiv – Samartha Mandir, one's life's desire in this regard finds real fulfilment. A visit to Shiv – Sainarth Gad will convince the mind of the youth of the fact that Indian culture is indeed worthy of being adored by the world. The youth will realise that our life has some definite purpose. The youth will be inspired to strive for the realisation of Shree Maharaj's dream in which he visualised India assuming the role of World – Preceptor.
This great Indian nation, with majority of Hindu society is today fallen in the ravine of materialism, guided by selfish motives, stuck in the quagmires of materialism, entangled by the state of inebriation due to increasing addiction of alcholic drinks & drugs and stricken by immorality. It can be diverted to the path of progress from the patrh leading to demoralising helplessness by the youth of the nation who have got every right to dream of a bright future. We are sure that once they come in contact with the ambience provided by Shiv Samarth Gad, their wrists will acquire steel like strength. The fire of enthusiasm and optimism burning in their hearts will not get extinguished. Their lives would be guided in the right direction, their feeling of self-respect will reassume its original form and imbibe the splendour emanating from the ambience of the place; to be able to experience the supreme joy arising out of it, to achieve the goal of leading a life of action, with a sense of detachment, the minds of the youth become the right containers ready for being filled with the thoughts they need.
Every year, the Shree Shivaraya birth anniversary celebrations are held in Shree Shiv Samarth Gad on "Falgun Vadya Trutiya" (third day of Falgun after full moon). Visitors from various corners of Maharashtra come here and try to be a part of the activities and discipline, the seeds of which had been sown by Shree Maharaj. Till this date, innumerable eminent personalities, social workers, political leaders, religious leaders etc. have visited this place and have gained a feeling of being blessed. It's quite common for an artist to put his name at the base of his work or for sculptor to display his name-plate at the base of his creation. Even the marble slabs at the base of public buildings display a list of political leaders, though they are raised with the help of public funds. In an age, where people seem to be mad after publicity of every kind, it is surprising to find no place, of Shiv Samarth Gad bearing or displaying Shree Maharaj's name. If at all one vants to see an authentic example of Nishkam Karmayoga (leading a life of action with a sense of detachment), one can find it in the work of Shree Maharaj.
When the visitor after observing the exterior of Shiv Samarth Gad crosses the main gate, his/her eye at once catches the glimpse of the Shree Sant Seetarambua Walawalkar temple Shrine. By its side can be seen Shree Swami Samartha Shree Ram Mandir, noted for the novelty of its architecture. One forgets one's own self (so absorbed in the ambience one gets) as one watches from the marble steps of the temple the idols of Shree Swami Samartha and Shree Digambardas Maharaj on two sides (made of five metals like gold,silver, copper etc.) and the idols & Lord Rama, Mother Seeta, Lord Laxman and Lord Hanuman in between.
Right in front of Shree Ram Mandir one finds a small Hanuman temple with the idol of Lord Hanuman istalled in it. When one goes to the back of it from the right side one reaches the place where the Datta temple stands. One feels as if Lord Datta is seated at a place which looks secluded. Right behind this place one finds three Audumbar trees (Glorious fig trees). The most noteworthy fact about it is this that about 27 years back, whenever Shree Maharaj would come here (it was an open space in those days) he would sit at a particular place. After a few days, there appeared three Audumbar saplings which grew into trees. In 1995 it was under shade of these trees that the Datta Temple was built and the idol of Lord Datta was installed here ceremoniously.
This centre of pilgrimage is becoming popular as a centre which has incorporated all the positive factors of modernity a place where one finds a confluence of social service and devotion.